Welcome to Katy's Smokehouse!
For over sixty years Katy's has been smoking premium grade No. 1 King Salmon (Chinook). Most of our fish are caught by hook and line and all are ocean fresh quality.
The process we use to cure and smoke our fish is entirely natural and takes up to three days to complete. The Europeans call it Kippering, and it is defined by the manner in which the fish is first smoked without heat, and then gradually the temperature is raised during alder smoking un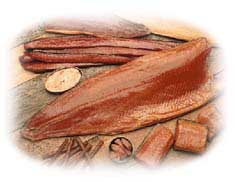 til the fish is completely cooked. We take no shortcuts and never use chemical additives or coloring agents! Katy learned to smoke fish from her friends at the Yurok Indian Nation and was careful to include all steps required to do a perfect job. Now you too can enjoy her great tasting gourmet style original recipe smoked fish at home. Just order some today and we'll send it out immediately. We now smoke over fifteen different products and are sure to have the perfect gift or treat for any holiday, birthday or special occasion. And remember, if you need recipes, just click on the button above!
Our normal hours are:
Thursday through Monday  9:00am to 4:00pm
(Closed Tuesdays and Wednesdays)
IF IN DOUBT
PLEASE CALL FOR AN APPOINTMENT
707-677-0151
Thank you for your understanding
You can always purchase our quality products online
Check Out Our Smoked Canned Products
These canned products are low acid and do not expire.
740 Edwards St Trinidad California
707-677-0151